At a glance
Learn directly from professionals at law firms and companies and gain insight into the inner workings of businesses in China.
You'll do legal case studies, visit courts, and receive business assignments.
You will be based in Shanghai with teenagers your age and Projects Abroad staff will be there to supervise and guide you.
This project is only for 15-18 year olds
Is a Law and Business internship in China for teenagers right for me?
This internship is perfect for adventurous teenagers interested in adding professional legal and business work experience to their CVs. In the process, you'll also experience living and working in a rapidly developing country, and meet people your age from around the world.
If you're thinking about studying law or business, this internship is a wonderful opportunity to explore what they're like in practice. Having this kind of work experience on your CV will set your application apart and give you interesting things to talk about in interviews.
You don't need any qualifications or experience to join. We'll teach you everything you need to know, and you'll have all the support and guidance you require. All you need to bring with you is a positive attitude and a hunger to learn!
This High School Special runs for two weeks over fixed dates in the summer. We offer extra staff support, so you'll be safe and have plenty of guidance along the way. When you're not working, we've organised social and cultural activities for your group to keep you busy. You'll also go on a weekend trip together with our staff.
What will I do on a Law and Business internship in China for high school students?
You'll spend two weeks in Chengdu with teenagers your age, working at local law firms and businesses. These are some of the things you will do:
Meet and shadow lawyers and business professionals
Receive presentations and assignments
Explore Chengdu with interns from all over the world
On a Law and Business internship in China for high school students, your work will focus on the following areas:
Meet and shadow lawyers and business professionals
You'll learn from and shadow highly skilled lawyers and business professionals. They'll share personal accounts and tips, which can help you decide if this is a career you want to pursue. They'll also answer your questions, so we recommend taking notes so you can remember everything you learn from them!
Receive presentations and assignments
You will receive interesting and informative presentations from people in the industry. These are designed to give you a broad overview of and a deeper insight into legal and business practices in China. You'll focus on topics like commercial and corporate law.
You will also be given a variety of tasks to complete. These include:
Putting together case studies
Proofreading documents
Making comparisons between the Chinese and other legal systems
Explore Chengdu with interns from all over the world
On the weekend, our staff have a fun sightseeing trip organised for you and the other teenagers. You'll visit a famous panda sanctuary, walk up Qingcheng Mountain, and visit the Giant Buddha. Projects Abroad staff will make sure you are never alone during this trip, and during the social and cultural activities we organise during the week.
Where in China will I be working?
This city is famous for giant panda breeding, as well as its beautiful temples, rolling valleys, and Giant Buddha. Chengdu has been voted one of the top three cities in China to live in. It also has one of the most successful economies of any mainland Chinese city.
On this internship you will spend one week at a law firm, and one week in a business placement. We give you the chance to explore sectors like:
Consulting
Finance
Education
Technology
Marketing
Sales
IT
PR
You will live with other teenagers and Projects Abroad staff at a local guesthouse.
Aims and impact of this Law and Business internship in China
The aim of this internship is to give you the opportunity to gain practical work experience in law and business. This is a different and exciting way to boost your CV, and it will also help you develop your personal skills. You'll improve your communication, and show that you are adaptable.
We'll give you a deeper insight into the Chinese legal system, focusing on commercial and corporate law. You'll work at companies, seeing first-hand what daily life is like for a business professional.
Join us and gain invaluable legal and business work experience, as you complete your internship in China.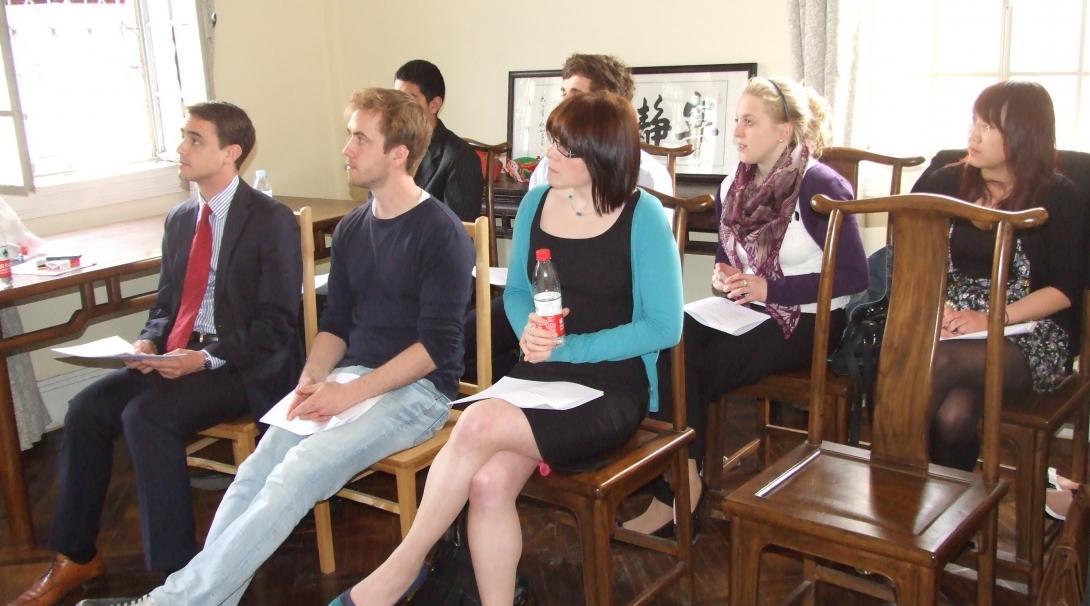 Measuring our impact
Every year, thousands of High School Special volunteers and interns actively make a difference around the world. During their time abroad, they contribute towards achieving long-term goals and make a long-lasting positive impact on the communities where they work.
We produce an annual High School Specials Impact Report, which documents some of these achievements. Find out more about the impact of these projects, and read the latest report.
Food and accommodation
You'll share accommodation with other Projects Abroad volunteers and interns during your stay in Shanghai. This is a great way to get to know your fellow volunteers and interns, share experiences, and explore your surroundings in your time together.
On our High School Specials, we will always try to have you share a room with at least one volunteer or intern of the same sex and approximate age. Your room will be modest, but comfortable, clean, and safe.
Your programme fees include three meals a day.
Find out more about our accommodation.
Safety and staff support
Your safety and security is our prime concern. We have many procedures and systems to ensure you have all the extra support you need as a young person travelling abroad. Our Projects Abroad staff are there for you 24 hours a day during the week and over weekends to provide constant support and guidance. Our staff also make sure you feel comfortable and safe at your placement and accommodation. If you encounter any problems, they will be available to help at any time.
Find out more about safety and backup.
Not quite what you're looking for?
Take a look at the following pages where you'll find collections of similar projects: