At a glance
Join our Physiotherapy internship in the Philippines and learn directly from experienced physiotherapists. You'll be based in a rehabilitation centre founded by Projects Abroad.
Alongside other teenagers you'll attend educational workshops, carry out house visits and general outreach work. This is a great way to learn about physiotherapy practices in a developing country.
You'll live with a friendly host family in San Remigio alongside other teenagers. We organise weekend trips and social activities to make the most of your leisure time.
This project is only for 15-18 year olds
Is a Physiotherapy internship in the Philippines for teenagers right for me?
Are you thinking about a career in physiotherapy? Want to find out what it's like? Or perhaps you've already made up your mind and are looking for work experience? If you answered yes to any of these questions, then this is the internship for you.
It's an excellent way to boost your CV for university applications. You'll learn about physiotherapy practice in an setting that is different from your home country, observing trained professionals at work. It's also a great opportunity to develop basic medical skills. Participating in outreach work will demonstrate your commitment to healthcare and helping others.
Travelling alone to a different country can be a daunting prospect, but we've got you covered. Our friendly local staff are available 24/7 to support you. In addition, you'll be working and socialising in a group with other teenagers from all over the world. The trip is fully supervised and structured, so you'll follow a set timetable of leisure and work activities.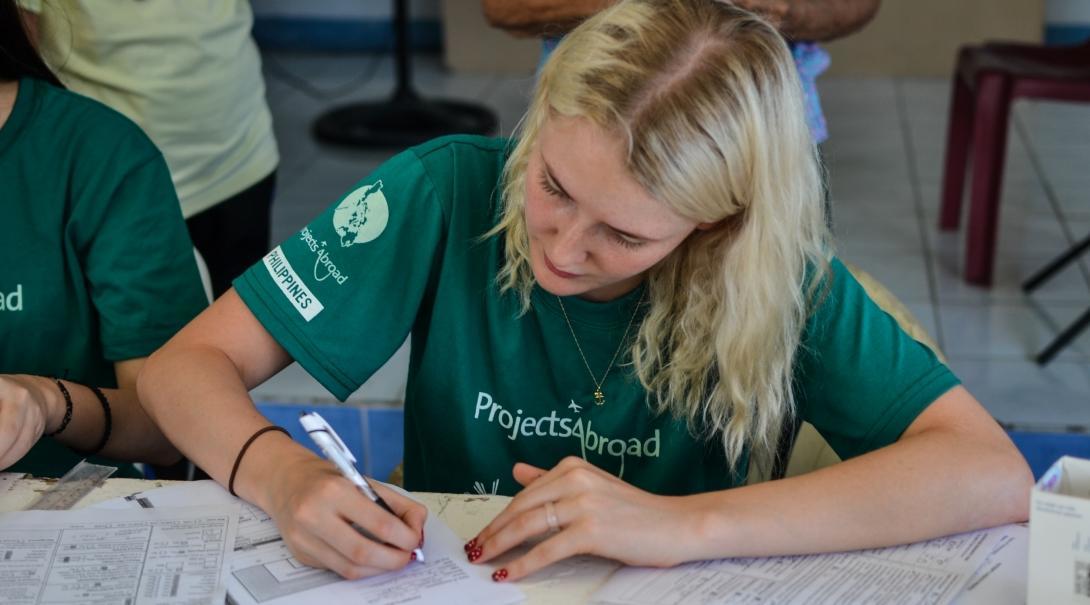 What will I do at a Physiotherapy placement in the Philippines for teenagers?
This well-rounded internship gives you the opportunity to take part in a range of different activities. These include:
Observe trained physiotherapists at work
Take part in educational workshops and medical outreaches
Experience the local Filipino culture together with teenagers your age
Your work will focus on the following main tasks:
Observe trained physiotherapists at work
You have the chance to observe trained physiotherapists as they go about their day at a community rehabilitation centre. This is a great way to learn from experts and get an idea of what it's like to work in this field.
You'll sit in on consultations, and see how physiotherapists work to aid their patients' recovery. Interns will also be able to accompany therapists on home visits in the local community. This is an exciting opportunity to see how physiotherapy works in a rural area that does not have many resources at hand. We encourage you to take notes and ask questions so you can learn as much as possible.
Take part in educational workshops and medical outreaches
On this internship, you'll take part in educational workshops on different topics related to physiotherapy. Here you'll learn more about how this therapy is practiced in the Philippines, and cover different techniques.
Projects Abroad also run regular medical outreaches in disadvantaged communities. These provide basic services such as health checks and minor treatments. You'll be able to assist the local staff where needed, whether taking blood pressure or handing out medication. This will all be done under supervision of medical professionals.
Experience the local Filipino culture together with teenagers your age
Since you've travelled all the way to the Philippines, we want to make sure you're able to make the most of your time in this beautiful country. We've organised an incredible weekend trip to Bantayan Island, which boasts crystal clear water and white sand beaches. There are also regular social events in the evening, which give you the chance to learn more about the local culture while having loads of fun. You'll do all this with teenagers your own age, supervised by our local staff.
Where in the Philippines will I work?
San Remigio
You will be based in the coastal town of San Remigio, which is located in the northern part of Cebu Island. San Remigio has all the modern conveniences you might need, such as grocery stores, banks, and restaurants.
As an intern, you will work at a local rehabilitation centre, which provides a number of services for people with disabilities in the community who cannot afford to travel to the city for treatment. The centre was established with the help of Projects Abroad, and is the first of its kind in this area of the Philippines. You will often spend time away from the centre, visiting different villages to conduct home visits.
The Philippines is a country with stunning scenery and plenty to offer visitors. You'll get to explore the local sights and culture on our organised social events and weekend trips.
You will stay with a host family in Bogo City, which is only 12 km from San Remigio.
What are the aims and impact of this project?
There are two main aims to this project: to give you an educational experience and to help disadvantaged people get access to basic healthcare services.
Many of the young students who join us are looking for practical work experience in a different cultural setting. We provide you with a structured internship where you'll learn from professionals. You'll take part in a range of interesting activities that will give you a deeper insight into physiotherapy practices.
You will also be working with patients in need of physiotherapy, under the supervision of an experienced physiotherapist. This will involve assisting with hydrotherapy sessions or home visits.
There are over 1,000 people living with disabilities in San Remigio, and around 10% require rehabilitation.
Unfortunately, many people in the Philippines are unable to access the treatment that they need, due to high costs or lack of nearby facilities.
The centre where you'll be working was established with the help of Projects Abroad, and is the only one of its kind in this part of the country. It provides vital physiotherapy services to the local community for free.
Join our Physiotherapy internship in the Philippines for teenagers and gain valuable work experience while helping to improve healthcare in disadvantaged areas.
Management plans
We set out the aims and objectives of our projects in documents called Management Plans. We use them to properly plan the work you'll do. They also help us measure and evaluate our achievements and impact each year.
Ultimately, our Management Plans help us make our projects better. This in turn means you get to be part of something that makes a real impact where it's needed. Read more about our Management Plans.
Measuring our impact
Every year, thousands of High School Special volunteers and interns actively make a difference around the world. During their time abroad, they contribute towards achieving long-term goals and make a long-lasting positive impact on the communities where they work.
We produce an annual High School Specials Impact Report, which documents some of these achievements. Find out more about the impact of these projects, and read the latest report.
Food and accommodation
You'll stay with a host family in Bogo City. They will welcome you into their home, eager to share their customs and have you teach them about your own culture. We believe that this is the best way to immerse yourself in the culture of the Philippines and have a truly unique experience.
On our High School Specials, we will always try to have you share a room with at least one volunteer or intern of the same sex and approximate age. Your room will be modest, but comfortable, clean, and safe.
Your programme fee includes three meals a day.
Find out more about our accommodation.
Safety and staff support
Your safety and security is our prime concern. We have many procedures and systems to ensure you have all the extra support you need as a young person travelling abroad. Our Projects Abroad staff are there for you 24 hours a day during the week and over weekends to provide constant support and guidance. Our staff also make sure you feel comfortable and safe at your placement and accommodation. If you encounter any problems, they will be available to help at any time.
Find out more about safety and backup.
Meet the team in the Philippines
Not quite what you're looking for?
Take a look at the following pages where you'll find collections of similar projects: