Join our Public Health internship in Belize and get practical work experience outside of a hospital environment. You'll work with nurses and give people advice on the prevention and treatment of medical problems. This will give you a deeper insight into the healthcare challenges people face in developing countries.
You'll focus on promoting healthy living and help to identify undiagnosed diseases, like high blood pressure and diabetes. You'll do this through health checks during mobile clinic outreaches. The work you do will help encourage people to lead healthier lives. In the process, you'll gain plenty of practical experience to add to your CV, and learn skills like measuring blood pressure.
Your project work will be based in the town of San Pedro. During your free time, explore the beauty of the tropical island, Ambergris Caye. You can also relax with your host family and experience what Belize is like as a local.
When you apply you only pay €295, which comes off the total price.
Looking to do more than one project? Call us on 01 571 5080 to see if we can offer a discount.
Project Overview
Flexi Trips - A flexible project that gives you the support and independence you need as you volunteer
Completely flexible dates
Anyone aged 16 or over can join
What's included in the price?
Accommodation

Food (three meals a day)

Travel and medical insurance

Airport pick-up and drop-off

Full induction and orientation by an experienced staff member on arrival

Transport to and from your work placement

In-country support and 24-hour back-up from our team of full-time local staff

Emergency assistance from our international emergency response team

Project equipment and materials, including access to our database with thousands of resources

A supervisor/mentor at your work placement

Training and workshops from our experienced local staff

Regular social events and community activities with other volunteers and interns

Access to our local office with internet connection

Certification of project completion

Access to our alumni services and discounts

Visa support and advice

Fundraising support, including your own personalised fundraising website

Pre-departure preparation by your own specialist Volunteer Advisor

Personalised MyProjectsAbroad website, with all the information you need about your project, accommodation and destination

A cultural awareness course

Membership to our volunteer social media groups, to share information and to get in touch

Support to help you complete registration or internship documents, if applicable
What's not included?
Flights

Visa costs (where applicable)
Is this Public Health internship right for me?
Interested in a career in healthcare? Looking to gain hands-on work experience? This is the perfect chance to do practical public health work. Anyone can join, and it's a great programme for students with or without previous experience and training.
During your internship, we'll teach you everything you need to know. Our staff are also there to provide guidance and supervision when you need it.
Use your placement in Belize to add practical work experience to your CV. Talk about what you've seen and learned during interviews, and give your application an edge for university or a job.
Our Public Health internships in Belize run throughout the year and you can join at any time. You need to stay for a minimum of two weeks, and you can stay for as long as you like after that.
What will I do at my Public Health placement in Belize?
On this Public Health internship, there's plenty of opportunity for practical work and learning. Here are some of the tasks you'll help with:
Assist with basic health checks for people in local communities
Raise awareness around key healthcare issues affecting the community
Shadow nurses at a private clinic
Attend medical workshops to learn skills necessary for mobile clinics
Promote nutrition for school children by building greenhouses and planting vegetable gardens
Your work will focus on the following areas:
Health checks at mobile clinics
A big part of your project work is going out into communities and running mobile clinics. You'll work alongside a local nurse, and check blood pressure, blood sugar, and weight. Nurses can then use this data to make referrals or recommend lifestyle changes that could prevent illness.
When you get back to the office after a busy day at the mobile clinic, you'll input this data into our Global Impact Database. We use this to monitor patients' progress and give them continued support over time. Many community members return to mobile clinics regularly to monitor and stay on top of their health.
Healthy lifestyle awareness campaigns
You'll also help with healthcare awareness campaigns in schools and local communities. Conduct research and create eye-catching posters about common healthcare problems in San Pedro. Then go to local communities and give talks or lead workshops to get students thinking about health. Awareness campaigns are an important part of preventing illness and creating a community of healthier individuals.
We occasionally organise larger health fairs where you can develop your project management skills.
Shadow nurses in a private clinic
Spend some of your time shadowing nurses at private clinics. You'll get the chance to see a different side of healthcare in Belize. When combined with the outreach work you do, this will give you a broad idea of how medicine is practised in a developing country.
Medical workshops
Learn the skills required for the mobile clinics and awareness campaigns during regular workshops. You'll learn about different diseases and assessment techniques.
Build green houses and vegetable gardens
Nutrition plays a big part in overall health. That's why you'll be involved in improving access to healthy foods by building greenhouses or planting vegetable gardens. This is particularly important in Belize, a country that struggles with illnesses like diabetes and heart disease.
Where in Belize will I work?
San Pedro
This internship is based in San Pedro, a town on Ambergris Caye, the largest island off the coast of Belize. The town is home to over 15,000 people. As you make your way around San Pedro, you'll see locals whizzing past on golf carts and bikes, the most common forms of transport.
You'll be conducting health checks in local communities. This is where most of your work will take place. You'll also conduct awareness campaigns in local schools and shadow nurses at a small healthcare clinic. It's a great way to gain public health work experience while in Belize.
San Pedro has beautiful beaches, giving you the chance to experience authentic island life. But the communities where you work will be less developed than you're used to. They'll typically have muddy terrain and the people don't have regular access to healthcare facilities. This makes your role as a Public Health intern particularly important.
A typical day at your Public Health placement in Belize
A typical day on this internship will be busy and filled with lots of practical learning. You'll wake up in your host family's home to the sound of waves crashing on the shore. Join them for a breakfast of fresh fruit and then prepare for a day on the Public Health Project.
Your project work will usually run from about 9am to 4pm. Typically, your week's schedule will look something like this:
Monday: Prepare material for awareness campaigns
Tuesday: Run healthcare and healthy lifestyle awareness outreaches in schools and communities
Wednesday: Run a mobile clinic in the morning, then spend the afternoon doing data entry
Thursday: Run a mobile clinic in the morning, then spend the afternoon doing data entry, and join a medical workshop
Friday: Spend the morning working at a mobile clinic, then do data entry and attend a weekly meeting with your supervisor
You'll do all data entry and preparation for awareness campaigns in the Projects Abroad office. It's a relaxed working environment with internet access and poster-making supplies.
You'll have your evenings free, giving you the chance to explore San Pedro. Relax on one of the white-sand beaches as the sun sets over the sea. Or enjoy a tasty dinner with your host family as they teach you Spanish.
What are the aims and impact of this Public Health internship?
There are two main aims of this project: to help you develop your skills and to meet the needs of the local community.
We want to equip you with the knowledge and practical skills to pursue a career in healthcare. You'll have medical professionals with you during outreaches, giving you the chance to learn from them and ask questions.
What's more, you'll also be helping to provide much-needed medical care to people in remote communities. There are no hospitals on the island of Ambergris Caye. The staff at the polyclinic and two private practices, the only medical facilities on the island, are overburdened.
Lack of public transport also makes it difficult for people to seek medical help. The work you do during mobile clinics makes it easier for people to monitor their health and get treatment if needed.
We have identified four goals in our Medical Management Plan for Belize. These are:
Improve access to basic healthcare for disadvantaged groups
Promote awareness of non-communicable diseases
Reduce the number of cases of HIV/AIDS
Improve hygiene standards
Join our Public Health internship in Belize and help us work towards these goals.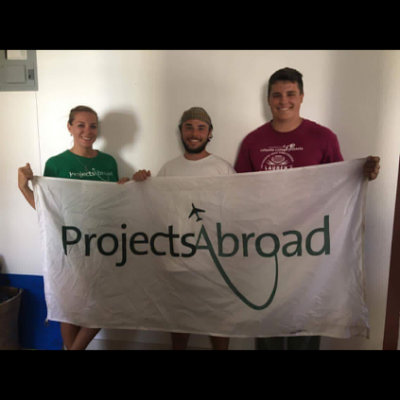 I learned how to correctly obtain a patient's blood pressure and blood sugar levels, and we practiced these skills several times a day leading up to the mobile clinic.
Public Health Internship in Belize
Management Plans
We set out the aims and objectives of our projects in documents called Management Plans. We use them to properly plan the work you'll do. They also help us measure and evaluate our achievements and impact each year.
Ultimately, our Management Plans help us make our projects better. This in turn means you get to be part of something that makes a real impact where it's needed. Read more about our Management Plans.
Measuring Our Impact
Our projects work towards clear long-term goals, with specific annual objectives. Every volunteer and intern we send to these projects helps us work towards these goals, no matter how long they spend on our projects.
Every year we take a step back and look at how much progress we've made towards these goals. We put together a Global Impact Report, which documents our achievements. Find out more about the impact our global community of volunteers, interns and staff make, and read the latest report.
Not quite what you're looking for?
Take a look at the following pages where you'll find collections of similar projects: