Volunteer with children in Samoa and support the work of local teachers and caregivers. You'll spend time working to address areas of need that we have identified, such as promoting early childhood development. At the same time, you'll gain useful work experience and develop your own personal skills.
While Samoa has experienced significant development in recent years, rural poverty remains a problem. There are limited resources to help disabled people. Enrollment at schools for early childhood school is low. You'll volunteer mainly with young children, some of whom have special needs or have experienced abuse. You'll focus on organising fun, educational activities to teach children important skills.
Samoa boasts stunning scenery and there is plenty to occupy your free time. You'll live with a host family in the town of Apia, which gives you the chance to immerse yourself in the local way of life. Experience a different culture and take advantage of all that Samoa has to offer.
When you apply you only pay €295, which comes off the total price.
Looking to do more than one project? Call us on 01 571 5080 to see if we can offer a discount.
Project Overview
Flexi Trips - A flexible project that gives you the support and independence you need as you volunteer
Completely flexible dates
Anyone aged 16 or over can join
What's included in the price?
Accommodation

Food (three meals a day)

Travel and medical insurance

Airport pick-up and drop-off

Full induction and orientation by an experienced staff member on arrival

Transport to and from your work placement

In-country support and 24-hour back-up from our team of full-time local staff

Emergency assistance from our international emergency response team

Project equipment and materials, including access to our database with thousands of resources

A supervisor/mentor at your work placement

Training and workshops from our experienced local staff

Regular social events and community activities with other volunteers and interns

Access to our local office with internet connection

Certification of project completion

Access to our alumni services and discounts

Visa support and advice

Fundraising support, including your own personalised fundraising website

Pre-departure preparation by your own specialist Volunteer Advisor

Personalised MyProjectsAbroad website, with all the information you need about your project, accommodation and destination

A cultural awareness course

Membership to our volunteer social media groups, to share information and to get in touch

Support to help you complete registration or internship documents, if applicable
What's not included?
Flights

Visa costs (where applicable)
Is volunteer work with children in Samoa right for me?
Do you enjoy working with children? Want to experience a different culture while helping to make a positive impact? You can do this and more while travelling in the South Pacific as a volunteer at our Childcare Project in Samoa.
You'll gain childcare and teaching experience, which is a great addition to your CV if you're thinking of pursuing a career in these fields. There are different options to choose from, for example, if you want to work with young children or those with special needs.
There are no requirements in order to join. Upon arrival, you'll receive a comprehensive induction which will introduce you to everything you need to know. Your role is to support the local caregivers and teachers, who will guide you for the duration of your placement. Projects Abroad staff are also available 24/7 and check in with all our volunteers regularly.
You'll have access to a resource database stocked with ideas for different activities and educational games. Furthermore, we also organise regular workshops with our Childcare and Teaching volunteers. You can share advice and learn more about childcare practices in Samoa.
This project is available year round. Please bear in mind that during holiday times we run informal school sessions instead. You can join at any time from a minimum of one week, although some of our partner placements have longer requirements.
If you have TESOL or TEFL qualifications and can dedicate at least five weeks of your time, there is also the opportunity to work at a centre for children who have been abused. This is subject to the discretion of the centre.
What will I do on this project?
There is plenty of scope to get involved and use your initiative, so take advantage of our volunteer opportunities with children in Samoa. Here are just some of the things you can do:
Make learning fun through arts, sports, and games
Work with disabled children to help them with their rehabilitation
Help to improve basic skills such as literacy and numeracy
Make learning fun through arts, sports and games
A fun learning environment helps children to stay motivated and focused. You can use your imagination and creativity to help children learn new things while enjoying themselves. This can be done through activities like:
Songs
Games
Arts and crafts
Sports
Help to improve basic skills such as literacy and numeracy
An important part of your work is helping young children to master basic educational skills such as counting and the alphabet. This forms the basis of their future learning and will ensure that they are prepared for formal schooling. You can also help older students in these skill areas by assisting them with homework.
Work with disabled children to help them with their rehabilitation
Children with special needs often require additional support so that they can learn basic skills and reach developmental milestones. You will spend time providing children with individual attention and helping them to master tasks such as writing their name. You can also ensure they have fun, whether you're playing a game outside or enjoying a craft activity.
Where in Samoa will I work?
Apia
While doing volunteer work with children in Samoa, you'll be based in town of Apia. It is located on the central north coast of Upolu, which is Samoa's second largest island. Apia is a laid-back town which is easy to explore on foot. However, it also has all the modern conveniences you might need, from beachside restaurants to grocery stores.
You will spend time working at our partner schools and centres situated in and around Apia. Conditions at these centres are usually quite basic. Your host family is only a short walk or bus ride away from your placement, so commuting is easy.
A typical day volunteering with children in Samoa
A standard work day will run from 9am - 2pm, Monday to Friday. You will have your weekends and evenings free to relax and explore.
Because there are different placement options available on this project, your daily activities will vary according to the option you choose. You can work at schools for children with disabilities, as well as kindergartens and primary schools.
In general, you'll spend your time interacting with and supporting the children. This may involve helping older children with their homework. Or, teaching the younger ones new skills through fun activities like songs and games. You'll also assist local staff with daily tasks around the centre.
Once you're done for the day, it's time to soak in your new surroundings. Spend time getting to know your host family over a delicious dinner, or join in with one of our regular volunteer socials. These give you a chance to get to know your fellow volunteers.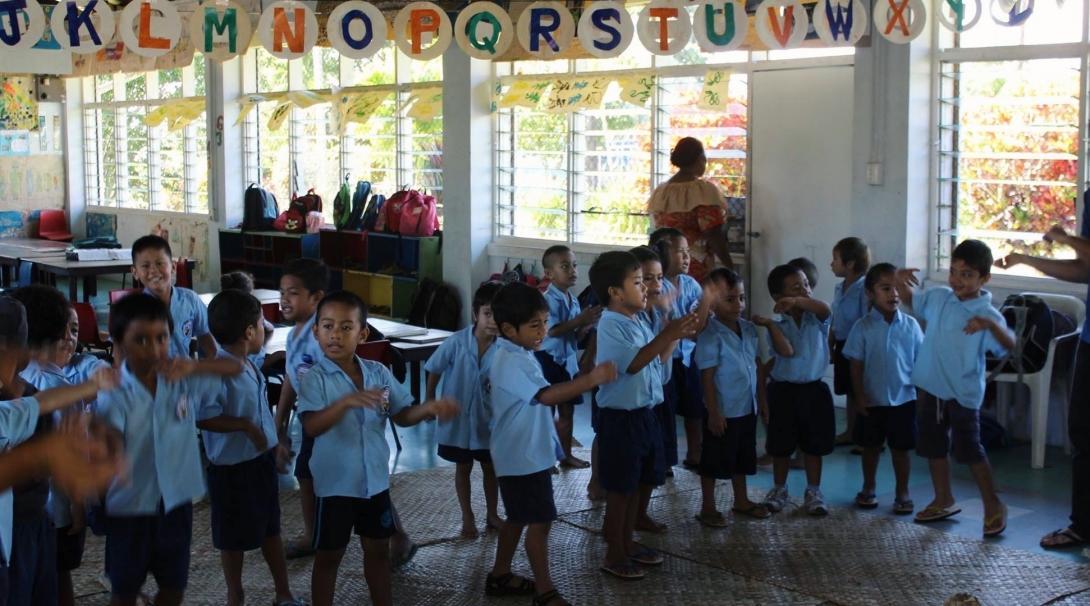 What are the aims and impact of this project?
The main aim of this project is to support the educational development of children.
Samoa has a literacy rate of 99% and a high level of primary school enrollment. The country has also shown significant improvement in terms of poverty and unemployment rates in recent years. However, these issues still persist in certain areas, particularly in rural ones, and there is room for improvement.
Schools in disadvantaged areas are often under-resourced and overcrowded. This means that children don't receive the level of attention and stimulation that they need. In particular, there is a low level of participation in nursery schools, and resources for children with disabilities are limited. To address these concerns, our goals in Samoa are to:
Improve English levels
Promote early childhood development
Improve the quality of life for those living with disabilities
Increase literacy
Increase emotional care and support to each child
We need the help of volunteers like you to give children the support they need, and to act as an additional helping hand for teachers. Join us in Samoa and contribute to positive, long-term change in the lives of local children.
Projects Abroad staff were brilliant, they were always available and always checked in on how I was and how my placement was going.
Volunteer with Children in Samoa
Management Plans
We set out the aims and objectives of our projects in documents called Management Plans. We use them to properly plan the work you'll do. They also help us measure and evaluate our achievements and impact each year.
Ultimately, our Management Plans help us make our projects better. This in turn means you get to be part of something that makes a real impact where it's needed. Read more about our Management Plans.
Measuring Our Impact
Our projects work towards clear long-term goals, with specific annual objectives. Every volunteer and intern we send to these projects helps us work towards these goals, no matter how long they spend on our projects.
Every year we take a step back and look at how much progress we've made towards these goals. We put together a Global Impact Report, which documents our achievements. Find out more about the impact our global community of volunteers, interns and staff make, and read the latest report.
Not quite what you're looking for?
Take a look at the following pages where you'll find collections of similar projects: