At a glance
Volunteer as a sports coach and help local youth develop their skills and fitness
Work alongside professional coaches, and be a part of multiple aspects of coaching and training
Contribute your own creative training techniques
Coach sports like football, basketball, and rugby
Is coaching sports in Ghana right for me?
Coaching sports in Ghana as part of a team of volunteers is perfect for you if:
You're passionate about giving back through sport
You want to add practical coaching experience to your CV
You want to develop personal skills like leadership, organization, and goal-setting
The teams you'll be working with are made up of players of all skill levels. Using simple training methods, you can help lay the foundations for their development. Your exact roles as a coach depends on your experience. It's an exciting opportunity to team up with a diverse group of volunteers, and work with promising young athletes!
You don't need any experience or qualifications to join. This is because our in-country Projects Abroad staff and the local coaches will be there to help you every step of the way.
This Team Trip has set dates with a pre-planned schedule so that you get the most out of your time in Ghana.
What will I do as a sports coach in Ghana?
These are the main activities you can get involved with during your project:
Coach sports to children
You will help develop the skills of disadvantaged children aged 7 through 16 years old. Training consists of:
Fitness sessions
Drills
Team structure
Strategy sessions
Research and plan new and creative ways to coach
Local coaches might have access to the same information or techniques you've been exposed to. Before and during your project, you can research the latest trends in fitness and effective coaching strategies. You can introduce these concepts to coaches and your students.
Develop personal skills
Coaching sports is a great way to learn important life skills. By guiding students through their activities, you'll develop leadership skills. You'll explore ways to motivate a team and assist them in achieving specific goals. You'll also improve your ability to plan lessons by preparing instructional sessions.
Who we work with in Ghana
We've partnered with DUNK! (Developing Unity, Nurturing Knowledge). DUNK! is a youth-led, community-based organisation. They provide safe spaces for youth from disadvantaged communities where they can grow, learn, and socialise.
Through educational support for at-risk youth, DUNK! empowers its members to succeed on and off the basketball court. DUNK! is currently working in the two of the most underprivileged communities in Accra: Nima and Jamestown. They work with around 250 children each year.
Where will you work in Ghana?
Akuapem Hills
Located in the Eastern Region of Ghana, Akuapem Hills is characterised by vibrant green vegetation and rich red earth. As one of the quieter regions, children calling 'Obroni' (foreigner) as they try to catch your attention will be unmistakable. The villages are welcoming and know how to entertain! When volunteering in Ghana, join in on the street festivities or try dried fish and yams at a food stall on the main street. The bustling city of Accra is within easy reach for a day trip.
What are the goals of sports coaching in Ghana?
Ghanaians are hugely passionate about team sports and manage to play whenever they have a free moment. This is especially evident in Accra, where many new courts and fields are being developed. However, many communities in Ghana don't have access to professional coaching. Projects Abroad works with a club that was established to provide players with the basic facilities and resources they need to excel in sports.
The aim of our Sports Coaching Team Trip in Ghana is to help a group of young people excel at persistence, teamwork, and collaboration. If you combine teamwork with improved coaching methods, you have a winning recipe for helping athletes excel and raise their confidence!
Through regular coaching and giving children a chance to play competitively, you'll contribute to the development of their skills and techniques. Our main goal is to build up confidence and ability with the hopes of scholarships on the horizon.
What are you waiting for? Join us in Ghana and work with a team of dedicated volunteers and coaches to help disadvantaged children strengthen their sports skills!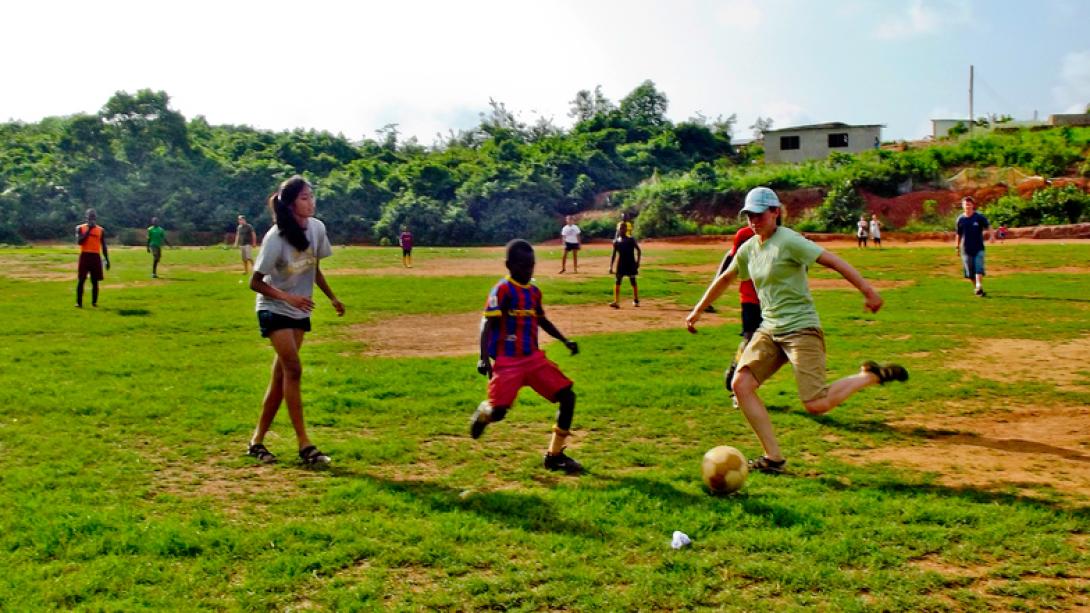 Management plans
We set out the aims and objectives of our projects in documents called Management Plans. We use them to properly plan the work you'll do. They also help us measure and evaluate our achievements and impact each year.
Ultimately, our Management Plans help us make our projects better. This in turn means you get to be part of something that makes a real impact where it's needed. Read more about our Management Plans.
Measuring our impact
Our projects work towards clear long-term goals, with specific annual objectives. Every volunteer and intern we send to these projects helps us work towards these goals, no matter how long they spend on our projects.
Every year we take a step back and look at how much progress we've made towards these goals. We put together a Global Impact Report, which documents our achievements. Find out more about the impact our global community of volunteers, interns and staff make, and read the latest report.
Food and accommodation
You'll stay with a host family in Ghana. They will welcome you into their home, eager to share their customs and have you teach them about your own culture. We believe that this is the best way to immerse yourself in the culture of Ghana and have a truly unique experience.
We will always try to let you live alongside at least one other Projects Abroad volunteer or intern at the same host family. Your room will be modest, but comfortable, clean, and safe.
Your programme fee includes three meals a day.
Find out more about our accommodation.
Safety and staff support
Your safety and security is our prime concern. We have many procedures and systems to ensure you have the support you need to enjoy your trip with peace of mind. Our Projects Abroad staff are available 24 hours a day to help, and will be on-hand to make sure you settle in well at your accommodation and placement. If you encounter any problems, they will be available to help at any time.
Find out more about safety and backup.
We currently don't have any available dates for this project. Contact us on 01 571 5080 to discuss future dates or alternative projects.
Not quite what you're looking for?
Take a look at the following pages where you'll find collections of similar projects: