Picture this: you're flying over the treetops in Costa Rica on a zipline, or gently swaying underwater in Fiji as you scuba dive with sharks. Imagine herding livestock on horseback on the vast Mongolian Steppe, or hiking ancient ruins on the legendary Inca trails in Peru. This is just a snapshot of what you can do with Projects Abroad on one of our Authentic Adventures!
Our authentic adventure holidays are safe and hassle-free, and give you the ultimate immersive experience in different cultures. They're ideal for:
Solo travellers (ages 18-50+) interested in adventure holidays with a set group
Couples looking for experience holidays where they can explore together
Families keen to take a thrilling activity holiday with young kids or teenagers
We run trips on set dates throughout the year, including summer and winter, so adventure travel is around the corner whenever you're looking for it. We offer:
One- and two-week adventure holidays
Last minute adventure holidays (if you're looking for a trip with late availability, contact us to see what we can do for you)
Bespoke adventure holidays for groups of five or more
Read on below for more information on the options we offer for different age groups.
Adventure Holidays for Young People
We work in countries around the world, from South America to Asia. So young people go on an adventure holiday pretty much anywhere with us. While you experience adventure, you'll be focused on immersing yourself in the culture. If you choose an Authentic Adventure with an aspect of overseas volunteer work, you'll find the experience isn't just an adventure. It's an opportunity to give back and discover what you're capable of.
Here are some of our favourite adventure holidays for young people:
Discovery Tour in Peru: Hike through the continent's oldest city and the gateway to Machu Picchu, Cusco. Explore Puca Pucara, the 'red fortress', and visit sites such as Coricancha and Sacsayhuamán that combine amazing Inca and Spanish colonial architecture. It's truly a feast for the senses!
Discovery Tour in Costa Rica: Explore forests from a hanging bridge or fly through the air on a zipline, discover volcanoes, and relax in a waterfall pool or a hot spring. An adventure holiday in Costa Rica offers the perfect balance between thrilling activities and relaxation.
Discovery Tour in Fiji: A typical day for us in Fiji bounces between diving with sharks to collect critical scientific data, dipping into a healing mud pool, and stuffing ourselves with a traditional lovo meal baked in the ground. Sound good? Sounds like heaven to us, and you can experience all of it on our adventure holiday in Fiji!
Best of all, these are trips taking place over set dates, so you'll be joining a group of like-minded people. Perfect for solo travellers interested in adventure holidays where you don't have to be alone. In addition, our local staff will be there to provide support whenever you need it.
Adventure Holidays Abroad for Adults (30+)
Adventure is the expectation, and adventure is what we provide. Our trips combine cultural immersion and tourism, and invite you to experience a country's tastes, smells, and thrills for yourself. In addition, most of our Discovery Tours take place over one week, which makes them a good fit for any schedule, no matter how busy. Don't want to be away from home too long? Have a limited number of days off from work? Not to worry, we have an adventure holiday for you! View our complete list of Authentic Adventures below.
If you're interested in short-term volunteering while you're abroad, we recommend taking a look at our pre-planned Team Trips.
Family Adventure Holidays
You don't need to leave the kids at home when you book an adventure holiday with us! We offer a range of volunteer projects that can accommodate families with children as young as four, to teenagers. Alongside these projects, we can organise exciting activities to fill your free time and weekends, like cooking classes and sightseeing tours. These trips can be tailored specifically to your family by our Project and Destination Experts, and they'll help you design the best family adventure holiday.

Adventure Holidays for over 50s and Seniors
We don't have an age limit when it comes to adventure holidays abroad. While there are tours where we recommend a certain level of physical fitness, we have plenty of trips that offer the opportunity to relax and explore, all tinged with the thrill of doing something different overseas.
Here are some of our favourite adventure holidays for travellers over 50:
Wellness and Traditional Healing in Sri Lanka: Break away from your day to day life, and explore your inner self while you learn about the peaceful culture of Sri Lanka. This trip combines various cultural activities, from cooking classes to tea tastings, with volunteer work and a week of practising Ayurvedic therapy, meditation, and yoga. We also have a similar trip to India.
Take a Food Tour to Cambodia: If you're a foodie who loves to experiment in the kitchen and eat exciting new dishes from around the world, Cambodia is for you. We'll take you to various markets, where you can eat seafood fresh off the boat, and you can try fried insects if you're brave enough! We'll also teach you how to cook traditional Cambodian dishes.
Discovery Tour in Kenya: Explore East Africa through game drives, traditional dance lessons, cooking classes, and hikes. It's a short adventure that gives you the best possible insight into Kenya's culture. You'll also get to learn some of the local language, Swahili!
Bespoke Group Holiday Adventures
Keen to share the adventure with a group of friends, school mates, or colleagues? We're more than happy to chat about the possibilities for group adventure holidays with you.
With our customised group trips for five or more, we'll design a programme to fit your group's exact requirements and goals. Our expert local staff can adjust activities according to ages, needs, and abilities, so everyone will be included. We're also committed to providing you with a hassle-free experience, with no hidden fees. We can provide:
Visa advice
Accommodation
Three meals a day
A full volunteer project
Airport pick-ups and drop-offs
Ground transportation to and from your project
An itinerary packed with exciting leisure, cultural, and adventure activities
We'll focus on the nitty-gritty aspects of travel while you focus on what's important: helping to make a positive change in the world while having the adventure of a lifetime.
While we've recommended certain Authentic Adventures for specific age groups, that's all it is: a recommendation. In practice, our Authentic Adventures are open to everyone from the age of 18 upwards, and you can choose whichever one interests you most. Speak to our Project Experts for advice more tailored to your goals, passions, and ideas for adventure holidays.
Choose an Adventure Holiday
1-3 of 9 Projects
Volunteer Community Work in Fiji for Teenagers
See this project
Price:

€2,290 for 2 weeks

Extra Weeks:

€440

Start Date:

During school holidays

Minimum Duration:

2 weeks

Age:

15-18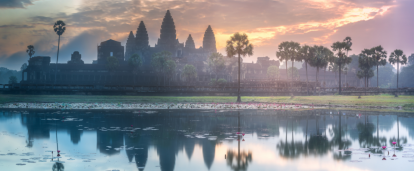 Take a Gap Semester Abroad in Asia
See this project
Price:

€5,795 for 10 weeks

Extra Weeks:

€450

Start Date:

Throughout the year

Minimum Duration:

10 weeks

Age:

17-24
Community Volunteer Work in Fiji
See this project
Price:

€1,845 for 1 week

Extra Weeks:

€290

Start Date:

Completely flexible dates

Minimum Duration:

1 week

Age:

16 or over
Load More
Can't find what you're looking for?
We'd be happy to talk about creating a custom project for you. Most of our staff have been volunteers themselves, so they're well placed to answer your questions, big or small.
+353 1 571 5080
or email:
Get in Touch
to start planning your project