Volunteer in Mexico with Projects Abroad and take part in work that serves the needs of the local community. Become part of our ongoing efforts to support communities while experiencing life in a beautiful country.
We have a several different kinds of volunteer work Mexico. You can support early childhood development at a disadvantaged care centre, or protect endangered turtles on black sand beaches.
You can also kickstart your medical career by learning directly from staff at a local hospital.
You'll be based in Guadalajara or Cuyutlan, depending on what project you choose. Our full-time staff in Mexico are there to support you 24/7 if you need it, wherever you're based.
Modern-day Mexico offers a tantalising blend of Mesoamerican cultures, Spanish traditions, and contemporary arts. You'll be able to explore shimmering coastlines and cactus-strewn deserts.
Projects available in Mexico
1-3 of 16 Projects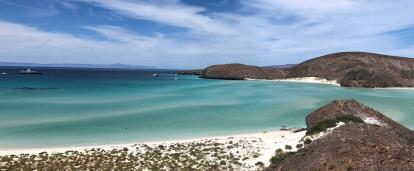 Scuba Diving and Marine Conservation in Baja California Sur, Mexico
See this project
Price:

€1,995 for 1 week

Extra Weeks:

€740

Start Date:

Completely flexible dates

Minimum Duration:

1 week

Age:

16 or over
Volunteering with Children in Mexico
See this project
Price:

€2,425 for 3 weeks

Extra Weeks:

€290

Start Date:

Completely flexible dates

Minimum Duration:

3 weeks

Age:

16 or over
Scuba Diving & Marine Conservation for Teenagers in Baja California, Mexico
See this project
Price:

€2,965 for 2 weeks

Extra Weeks:

€565

Start Date:

During school holidays

Minimum Duration:

2 weeks

Age:

15-18
Load More
Can't find what you're looking for?
We have the expertise and staff on the ground to create a custom project for you, or simply help you find the best option.
Speak to one of our Mexico experts on:
+353 1 571 5080
or email:
Get in Touch
to start planning your project
Where we are based in Mexico
Our volunteer opportunities in Mexico take place in Guadalajara. Our Conservation Project is based in Cuyutlan.
Guadalajara
Guadalajara has winding cobblestone streets, gorgeous colonial architecture, and a serene urban area. While many of the images characterised as 'Mexican' have their roots here (like mariachi music), the modernisation of the city allows you to experience old and new, all within one city.
Cuyutlan
With its black-sand beaches, gentle waves, and laid-back attitude, Cuyutlan feels a world away from everywhere. This quiet beach town serves as the home of our Sea Turtle and Coastal Conservation Project.
Is Mexico on your bucket list?
Safety and staff support
Your safety and security is our prime concern. We have many procedures and systems to ensure you have the support you need to enjoy your trip with peace of mind. Our Projects Abroad staff are available 24 hours a day to help, and will be on-hand to make sure you settle in well at your accommodation and placement. If you encounter any problems, they will be available to help at any time.
Find out more about safety and backup.