Volunteer with children in Romania and support the work of local teachers and caregivers in disadvantaged kindergartens and daycare centres. You'll gain practical childcare experience and learn new skills, which can help your future career. Best of all, you will help where it is needed most and work on sustainable, long-term goals.
In Romania, care centres are overcrowded. Teachers and caregivers need your help to give a bigger focus to early childhood development. This way, we can make sure children meet the development milestones typical for their age. You'll also have the option of working with children who have special needs, and caring for the elderly.
You'll be based in the ancient city of Brasov, and live with a local host family. This will be your home away from home and you'll learn all about Romanian hospitality, culture, and traditions.
When you apply you only pay €295, which comes off the total price.
Looking to do more than one project? Call us on 01 571 5080 to see if we can offer a discount.
Project Overview
Flexi Trips - A flexible project that gives you the support and independence you need as you volunteer
Completely flexible dates
Anyone aged 16 or over can join
What's included in the price?
Accommodation

Food (three meals a day)

Travel and medical insurance

Airport pick-up and drop-off

Full induction and orientation by an experienced staff member on arrival

In-country support and 24-hour back-up from our team of full-time local staff

Transport to and from your work placement

Emergency assistance from our international emergency response team

Project equipment and materials, including access to our database with thousands of resources

A supervisor/mentor at your work placement

Training and workshops from our experienced local staff

Regular social events and community activities with other volunteers and interns

Access to our local office with internet connection

Certification of project completion

Access to our alumni services and discounts

Visa support and advice

Fundraising support, including your own personalised fundraising website

Pre-departure preparation by your own specialist Volunteer Advisor

Personalised MyProjectsAbroad website, with all the information you need about your project, accommodation and destination

A cultural awareness course

Membership to our volunteer social media groups, to share information and to get in touch

Support to help you complete registration or internship documents, if applicable
What's not included?
Flights

Visa costs (where applicable)
Is volunteer work with children in Romania right for me?
This project is ideal for anyone who wants to support disadvantaged children and education. This project is also a good fit for anyone interested in working with special needs children, or caring for the elderly.
You'll gain practical experience, which could help your future career. You'll also learn and develop skills like teamwork, leadership, and planning.
If you have loads of energy, take a playful approach to life, and enjoy the antics of little ones, working with children in Romania is definitely for you. No experience in childcare? No problem! You'll support the local teachers and caregivers and have Projects Abroad staff members close at hand to help guide you along.
If you have some experience in working with physically or mentally disabled people or the elderly, your expertise would also be greatly appreciated. Local staff are often overstretched in their duties and would welcome your dedication and enthusiasm. They are always on hand should you require any advice or guidance.
To work with children in Romania, you must do a basic medical check and get a Police Clearance Certificate. This is used to demonstrate that you are fit to work with children. Please note that it can take up to 40 days to receive clearance. In addition, you will need to be at least 18 years old to join.
Our Childcare Project in Romania runs year-round and you need to spend at least two weeks on the project. We encourage you to stay longer to make a bigger impact on the people you work with.
What will I be doing as a Childcare Volunteer in Romania?
As a Childcare volunteer in Romania, you'll work in a kindergarten, daycare centre, special needs centre, or home for the elderly. However, you won't be on your own. Your main role is to support local staff and do activities like:
Run educational activities to improve literacy, English, and support early childhood development
Work with adults and children who have mental or physical disabilities
Help care for elderly people living in shelters or homes
Work with fellow volunteers and local staff
Assess and identify specific placement needs
Your work will focus on the following:
Improving literacy and English levels
English has undeniably become the global language for business and tourism. So, knowledge of basic English from an early age can substantially increase children's educational as well as future employment prospects.
As a Childcare volunteer working with children in Romania, you will offer invaluable help in introducing them to English. You will do this by improving their phonetics, pronunciation and grammar through fun and stimulating games and activities.
You will also be improving early childhood development by helping the children learn important skills through play.
Work with adults and children who have mental or physical handicaps
The special needs centres we work with in Romania are often understaffed and low on resources. As a volunteer, you can offer a much needed helping hand in spending time with, reading to, and playing simple games with residents. This helps local staff find time to do other crucial work associated with the running of the placement.
Care for elderly people
If you want to support the elderly, you can opt to work at a shelter. Here, you will play a crucial role in helping arrange activities that will keep them mentally stimulated. You can also engage those that are still physically active in outdoor activities and games to improve health and well-being.
Work with other volunteers and local staff
One of the best things about joining one of our volunteer programmes is the fact that you get to meet other volunteers from all over the world. Make the most of this opportunity by sharing ideas for activities, lessons, and games you can do during regular workshops organised by Projects Abroad staff. You can also share these ideas with placement staff, who can add them to their existing class routine to add a bit of variety.
Assess and identify specific placement needs
One of the ways in which we keep track of specific needs at each of our placements is through specially designed checklists. We will train you how to use these checklists. If you work with children, you will also assess the status of each child on a daily basis in areas related to:
Numeracy
Literacy
Fine motor skills
Emotional abilities
Social skills
Hygiene
You will upload this information onto our Global Impact Database. This database allows us keep track of the development at our placements and plays a crucial role in helping us constantly improve.
Where will I be working as a Childcare Volunteer in Romania?
Brasov
You will be based in the ancient city of Brasov. With its terracotta coloured roofs, gothic spires, medieval gateways, baroque buildings, and pedestrian-friendly streets, it's almost like a fairy tale come to life. Although it may seem quaint and almost old-fashioned at first sight, the city is bursting with modern hustle and bustle.
As a childcare volunteer in Romania, your working day will be spent at one of the following:
Daycare centre
Kindergarten
Primary school
Centre for mentally or physically disabled
Shelter for the elderly
Your placement will depend on what type of care work you are interested in helping out with. These centres are often overcrowded, and local teachers and caregivers desperately need more support.
Evenings and weekends will normally be your free time to explore. There plenty to see within Brasov and the Transylvania region.
A typical day as a Childcare volunteer in Romania
A typical day will run from about 8am to 5pm.
Every day at work will be different. On certain days you might help run an arts and crafts programme, while others may include outdoor sports activities or basic English lessons.
If you're working with children, you will support local teachers with their classes for the first part of the morning. Later, you will have the opportunity to work on English and improving literacy with the children.
If you're working with disabled children and adults or the elderly, your morning will start by helping serve breakfast. This will be followed by engaging in mentally stimulating activities, such as reading, building puzzles, or playing simple games.
Between 12pm and 1:30pm, you will have a lunch break. If your host family lives close to your placement, you can head home for lunch and a short rest. Alternatively, you will enjoy a packed lunch.
Your afternoons at work will mostly be spent doing more relaxed activities, such as arts and crafts or possibly outdoor sports and games.
During the hours you aren't working, you'll have ample free time to explore with your fellow volunteers. Since you will be living with a local host family, breakfast or dinners offer great opportunities to get to know them better and fully immerse yourself in their way of life.
What are the aims and impacts of childcare volunteering in Romania?
The main aim of this project is to support early childhood development at disadvantaged kindergartens and daycare centres. Projects Abroad has elected not to work with children in orphanages in Romania, but rather focus on community-based programmes that allow children to remain within their families.
With kindergartens and daycare centres often being overcrowded, local teachers and caregivers struggle to divide their attention equally. Because of this, some children may have trouble learning certain skills, depending on their interests, strengths, and weaknesses.
There is also a great need for children to learn English from a young age. Being able to speak the language fluently opens doors for further education and better jobs later in life. With your help, we can make sure more children learn important early childhood skills, and get more practice speaking English.
Our Childcare Project in Romania also extends to children and adults with physical and mental disabilities, as well as the elderly. Many of these care centres are understaffed and in dire need of resources. As a volunteer, you can help local staff with daily tasks and offer much needed kindness and attention to residents.
As laid out in our Childcare Management Plan for Romania, we have identified five sustainable, long-term goals to guide our work:
Increase literacy
Improve English
Promote early childhood development
Improve levels of stimulation for each child
Increase emotional care and support to each child
Help us achieve these long-term goals by joining us as a Childcare volunteer in Romania.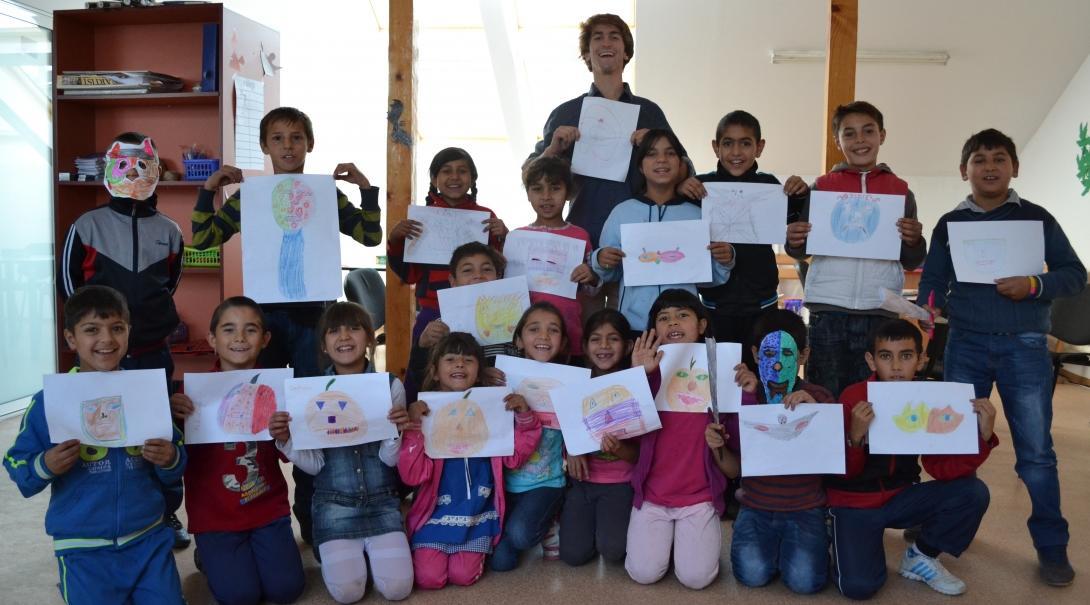 I feel that my experience has been, overall, very rewarding although emotional at times and highly beneficial for the children. Certainly in that the time we were able to devote to them and the sort of activities we did with them were so well received and would not have been available to them had we not been there.
Volunteer with Children in Romania
Management Plans
We set out the aims and objectives of our projects in documents called Management Plans. We use them to properly plan the work you'll do. They also help us measure and evaluate our achievements and impact each year.
Ultimately, our Management Plans help us make our projects better. This in turn means you get to be part of something that makes a real impact where it's needed. Read more about our Management Plans.
Measuring Our Impact
Our projects work towards clear long-term goals, with specific annual objectives. Every volunteer and intern we send to these projects helps us work towards these goals, no matter how long they spend on our projects.
Every year we take a step back and look at how much progress we've made towards these goals. We put together a Global Impact Report, which documents our achievements. Find out more about the impact our global community of volunteers, interns and staff make, and read the latest report.
Not quite what you're looking for?
Take a look at the following pages where you'll find collections of similar projects: