Perhaps your best friend mentioned it in conversation after returning from a trip to the jungles of South America or you came across it in your monthly travel magazine subscription. However you first heard the phrase "ecotourism", it definitely won't be the last time.
It seems the penny has finally dropped and more people are realising that our planet's limited natural resources are depleting at an alarming rate. This has resulted in an increase in people choosing to travel in a conscientious manner with low impact on the environment they're visiting.
By taking part in an environmentally friendly trip you're also actively committing to a way of travel that benefits the local community and its heritage. Ecotourism holidays are a great way to experience nature and all it has to offer without harming it which is why its sudden rise is great news for conservation efforts the world over!
While conservation and environmentalism are always at the forefront of Projects Abroad's efforts, a number of our projects are specifically designed to assist in the conservation of the environment and improving the well-being of the local people in the countries we work in.
1-3 of 27 Projects
Giraffe & Lion Conservation in Kenya
See this project
Price:

€2,220 for 1 week

Extra Weeks:

€365

Start Date:

Completely flexible dates

Minimum Duration:

1 week

Age:

16 or over
Giant Tortoise & Sea Lion Conservation in the Galapagos Islands
See this project
Price:

€2,220 for 1 week

Extra Weeks:

€365

Start Date:

Completely flexible dates

Minimum Duration:

1 week

Age:

16 or over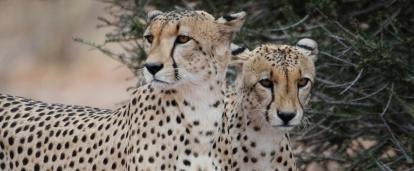 Africa's Big 5 and Wilderness Conservation in Botswana
See this project
Price:

€2,395 for 1 week

Extra Weeks:

€415

Start Date:

July and August

Minimum Duration:

1 week

Age:

16 or over
Load More
Can't find what you're looking for?
We'd be happy to talk about creating a custom project for you. Most of our staff have been volunteers themselves, so they're well placed to answer your questions, big or small.
+353 1 571 5080
or email:
Get in Touch
to start planning your project
Is an ecotourism holiday right for me?
Ecotourism is a great fit for you if you're passionate about the environment and interested in sustainable travel. Age, gender, and previous experience are irrelevant when it comes to protecting our planet and natural heritage.
Our projects are appropriate for anyone aged 16 years and older, with certain projects even specifically designed for the various age groups. From high school and university students to career breakers and retirees, there's something for everyone to get involved in. We also organise customised trips for groups and families who are looking to volunteer abroad together.
When can I get involved with an ecotourism holiday?
At Projects Abroad, we employ local staff year round in each of the countries we work in. This means we are able to offer 24/7 support and the majority of our projects run throughout the year. This enables us to offer flexible start dates which means you can join a project on any day you wish. Most of our projects have a minimum duration of two weeks but you can volunteer for as long as you like. Our volunteers usually take the weather in their chosen country into consideration when choosing what time of year to participate. Another consideration is school holidays and leave from work. Summer is our busiest and most popular time of year to get involved but people also sign up for the Christmas period too.