At a glance
Start learning basic Spanish, or improve what you already know, from a professional language teacher.
Outside of class, you'll be able to practice new words and phrases with local native speakers, as well as your host family.
You can study Spanish full-time, or combine your studies with one of our volunteer or internship programmes.
Is learning Spanish in Costa Rica right for me?
If you're eager to travel and learn Spanish at the same time, this language course is ideal for you. You'll get to practice your Spanish while exploring the city and interacting with native speakers.
Whether you're looking to improve your Spanish or you're a complete beginner, this project will be tailored to your level. You don't need to worry about having to keep up with a class.
You can study full-time before starting a project, or study part-time while you volunteer or intern, so you can learn while volunteering.
This is a flexible project that is available all year round, from a minimum of one week. However, we recommend staying longer to hone your skills as much as possible.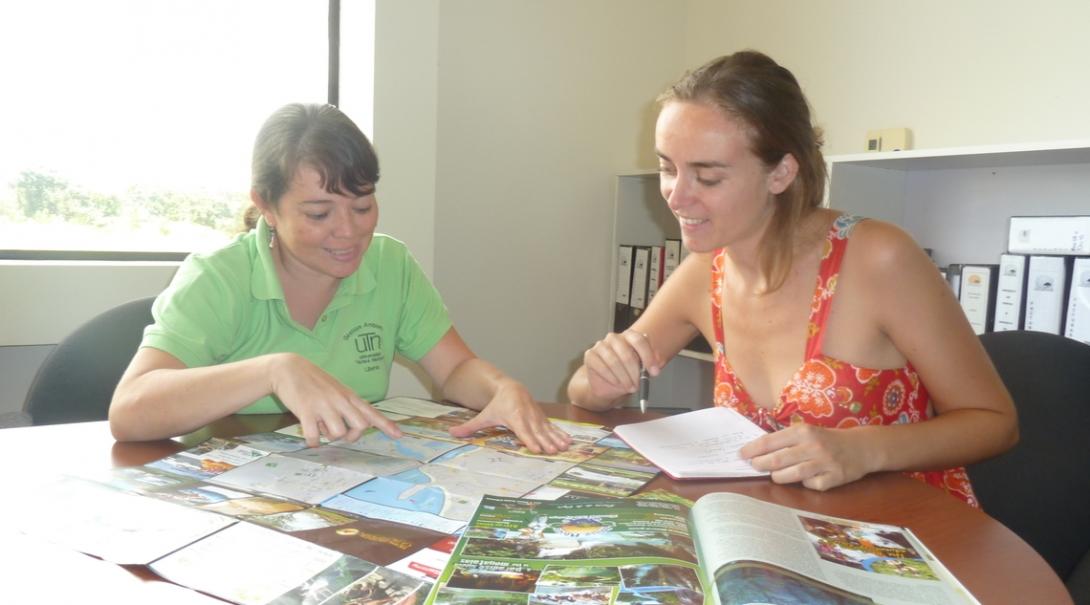 The project runs all year round, you can start on any day, and it's fully supervised. So all you need to do is decide on some dates, complete our application form with a £195 deposit and we'll take care of the rest.
What will I be doing?
Depending on your skills and when you travel with us, you may have your classes alone or be in a small group. The time and frequency of these lessons depend on whether you're studying full-time or part-time. Here are some of the activities that you can expect to do during your stay:
Learn Spanish during personal lessons
Explore and experience Costa Rica
Help with other work if you choose to combine your lessons with a volunteer project
Your Spanish Language Course in Costa Rica will focus on the following areas:
Learn Spanish
Your Spanish classes will be personalised according to your knowledge and skill level. If you're a beginner, you'll be taught basic grammar and vocabulary. If you're an intermediate level, you'll have more control over what you and your teacher focus on.
If you choose to do this as a standalone course, you'll attend 15 hours of classes per week. If you choose to combine this course with one of our other projects, you'll be able to choose between a 5, 14, or 30 hour course.
Explore Costa Rica
The best thing about learning Spanish in Costa Rica is that you're able to practice what you learn in your lessons while you're out and about. Improve your conversation and pronunciation by placing a food order at a restaurant or shopping at a local market.
Participate in a volunteer project
We offer many different projects that are based in Costa Rica. Support early childhood development at understaffed childcare centres or gain practical work experience teaching at with . Take a look at the projects we offer to see if you'd like to combine any of them with your language course.
Alternatively, you can also do a standalone course in Spanish before moving on to contribute to one of our other projects.
Where will I be learning in Costa Rica?
Liberia
The vibrant city of Liberia is situated in the heart of Costa Rica's Guanacaste Province. Due to its role as a key tourism hub, Liberia has an active social scene with plenty to offer.
You can easily reach the impressive Santa Rosa and Rincón de la Vieja National Parks on a day-trip from Liberia. Elsewhere, numerous popular tourist destinations, such as Arenal volcano and Monteverde cloud forest, are only a few hours bus ride away.
You're also never too far from the coast in Costa Rica. Spoilt for choice by the number of idyllic beaches, you'll have plenty of opportunities for water-based activities like surfing, swimming, snorkelling or scuba diving in your time off. The laid-back life of Costa Rica is infectious and you will find it hard to leave.
What is a typical day learning Spanish in Costa Rica like?
Most days will begin with breakfast at your host home. This is a great opportunity for you to practice your Spanish and get to know your host family at the same time. All classes run from Monday to Friday. You'll have evenings and weekends to explore with other Projects Abroad volunteers and interns.
The structure of your day will depend on whether you choose to do a standalone Spanish Language Course, or combine your studies with a project through our add-on options.
If you study full-time, you'll have around 15 hours of classes per week. You can choose to have your classes in the mornings or afternoons. If you're combining your language studies with a project, your mornings will be committed to project work, whereas your classes will left for the afternoons and evenings.
What are the aims and impact of this course?
This project aims to help you improve your Spanish language skills through personalised lessons and immersive learning.
It is also a brilliant opportunity for cultural exchange. Through immersing yourself in the language and interacting with your host family as well as locals, you'll learn about the culture and way of life. You'll leave with an understanding of traditions and practices different to those of your home country.
If you choose to combine your language course with one of our other projects, you will also become part of our ongoing efforts to support local communities. For example, if you work on a Childcare Project, you will help children with early childhood development, and teach English. Or you can help primary school children improve their language skills by teaching English.
This project will leave you with an increased knowledge of Spanish and a marked improvement in both your grammar and conversational skills.
Join us, study Spanish in Costa Rica, and improve your language skills in this beautiful country.
Measuring our impact
Our projects work towards clear long-term goals, with specific annual objectives. Every volunteer and intern we send to these projects helps us work towards these goals, no matter how long they spend on our projects.
Every year we take a step back and look at how much progress we've made towards these goals. We put together a Global Impact Report, which documents our achievements. Find out more about the impact our global community of volunteers, interns and staff make, and read the latest report.
Food and accommodation
You'll stay with a host family in Liberia. They will welcome you into their home, eager to share their customs and have you teach them about your own culture. We believe that this is the best way to immerse yourself in the culture of Costa Rica and have a truly unique experience.
We will always try to let you live alongside at least one other Projects Abroad volunteer or intern at the same host family. Your room will be modest, but comfortable, clean, and safe.
Your programme fee includes three meals a day.
Find out more about our accommodation.
LEISURE ACTIVITIES AND FREE TIME
With more than 25% of its land protected in national parks, Costa Rica is a nature lover's paradise. It has everything from volcanoes to tropical rainforests, and magnificent waterfalls to beautiful sandy beaches. This tiny country is also renowned for its biodiversity and boasts an array of wildlife.
Most of our projects are based in the vibrant city of Liberia, capital of the Guanacaste province. A striking mix of old and new, Liberia retains a rich colonial history, as well as being home to an array of modern tech companies and shopping centres.
Liberia is also a fantastic starting point for weekend excursions. If you're a fan of the great outdoors, you'll be able to explore the nearby Santa Rosa and Rincón de la Vieja National Parks.
You're never far from the coast in Costa Rica. Spoilt for choice by the number of idyllic beaches, you'll have plenty of opportunities for water-based activities like surfing, swimming, or scuba diving in your free time. In Liberia, you can get to many of the nearby beaches with a short bus ride.
There will likely be other volunteers in Costa Rica with you. So you can choose to explore on your own or as a group.
Safety and staff support
Your safety and security is our prime concern. We have many procedures and systems to ensure you have the support you need to enjoy your trip with peace of mind. Our Projects Abroad staff are available 24 hours a day to help, and will be on-hand to make sure you settle in well at your accommodation and placement. If you encounter any problems, they will be available to help at any time.
Find out more about safety and backup.
Meet the team in Costa Rica